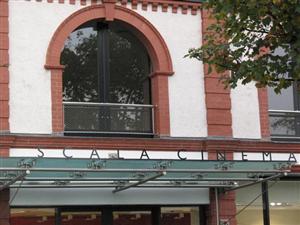 Presented below are the plans for the new Scala Cinema and Arts Centre, which began construction during February 2007 and which was handed over to Denbighshire County Council on Monday the 22nd of September 2008. Following time for additional technical installations and staff training, Prestatyn's new Scala Cinema and Arts Centre opened to the public on Friday 13th of February, 2009.
The building designs were created by London-based architects and urban designers Burrell Foley Fischer LLP, commissioned by Inglis Todd Consultants, on behalf of Denbighshire County Council.
The Stage 1 Feasibility Study was completed in February 2002 and was positively received by all concerned. In September 2003 Inglis Todd Consultants and Burrell Foley Fischer LLP were appointed to progress with the Stage 2 Feasibility Study, following a competitive selection and tender process. The design of the new Scala Cinema and Arts Centre was developed in tandem with the development of the Business Plan, separately commissioned from Inglis Todd Consultants. The design brief stressed the importance of the new Scala Cinema and Arts Centre, contributing to the vitality and viability of the town centre and its regeneration.
Burrell Foley Fischer LLP are to be commended for their quality and thoughtful designs which make excellent use of space. Its is clear from browsing the plans, that Prestatyn's Scala Cinema and Arts Centre was designed to help transform and regenerate the town.
Included were a wide range of facilities which local businesses, schools, communities and associations can use as comfortable, easily accessible and centralised meeting rooms. Two cinemas, theatre production stages, a Tourist Information Centre, a retail shop unit and a wonderful café/bar which overlooks Prestatyn's High Street were also included. The new digital Cinema was capable of screening the latest films and cinema releases, as soon as they become available.
After opening the new building in 2009, the Scala Cinema and Arts Centre was not directly managed by Denbighshire County Council's Tourism and Leisure department, but was instead run on behalf of Denbighshire by a professional trust, the 'Prestatyn Scala Company', a corporate 'not for profit' Company Limited by Guarantee, which was similar in fashion to at the time to Prestatyn's Nova Centre and Rhyl's Pavilion Theatre.
Later, on 29th January 2015, Denbighshire County Council confirmed that the Scala Board had agreed in principle to hand back the building's lease and the keys following a formal request from the Council's legal representatives and the council was in a position to be able to seek serious expressions of interest from experienced operators to re-open the venue as soon as practically possible. The venue had hit turbulent times and reportedly had outstanding debts of around £180,000 by the time it closed in January 2015.
On 5th March 2015, Denbighshire County Council and Prestatyn Town Council announced that the award winning Aurora Leisure Ltd, were the new leaseholders of the Scala. Aurora Leisure Ltd was established in 2012 by Mr Rob Arthur, who had extensive experience in the UK and International Cinema sector for the past 21 years with companies such as Vue Entertainment, SBC International Cinemas to senior executive and operational management levels. Mr Arthur was previously Managing Director of Apollo Cinemas, overseeing an estate of 14 cinemas and 83 screens including Rhyl until its sale in 2012, and had extensive cinema opening and operating experience in Taiwan, Portugal, Romania, United Kingdom and Ireland as well as many other cinema and leisure development projects.
Aurora Leisure Ltd had re-opened and established a cinema in Thurso, Scotlands most northerly mainland town after a successful community campaign to support the development of digital cinema. It screened up to 12 films or events per week from two screens, as well as operating a bar & kitchen and regularly hosting conferences and community events. At the time, the business employed 20 members of staff and had won several awards, including Scottish Edge and Screen International Awards. The intention was to have the building open by the beginning of April 2015 with a view to being fully operational by mid May 2015.
Rob Arthur, aged 46 at the time, said via local press that he was aware there was a "high level of expectation" and he promised to create jobs for people from the area and to hold a public meeting, prior to re-opening the doors of the Scala Cinema and Arts Centre. On 29th June 2015, it was announced by the DCC that plans to reopen the Scala were well underway and it was hoped the venue would be up and running by 3 July 2015 and as an extra special kickstart, the cinema would now boast state of the art Sony Digital Cinema 4k projectors which offered four times the image quality than the previous projection equipment, and would also enable 3D and the booking of live Cinema Events.
After a delayed unveiling following issues with paperwork and updating old equipment the Scala re-opened on 3rd July 2015. In a Rhyl Journal news article published September 2015, it was announced that the Scala had welcomed more than 10,000 customers in just over two months since being re-opened by Rob Arthur and Aurora Leisure.
In January 2016, the Friends of the Scala announced it had decided to fold.  This decision was they said, taken because, as a registered charity, the Friends of the Scala could no longer support the Scala cinema since it was now a commercial enterprise.  This was not a sad event; firstly, the Friends had achieved what they initially aimed to do, namely the rebuilding of the cinema after it's closure in 2000.  Secondly, they continued to support the Scala when it was run as a charitable company.  The Friends now felt that the future of the cinema was in safe hands and they looked forward to it's continued success. The Friends had £1,153.82 remaining and donated those funds to the Prestatyn Carnival Committee. The Friends of the Scala website became the property of Prestatyn resident Graham Smith who had created and maintained it over the years by way of contribution to the Friends, and they agreed that the history and information should be retained.
On the 12th April 2016, a Rhyl Journal newspaper article was published announcing that the current tenant of a Prestatyn cinema had put forward a proposal for a new operator, just nine months after taking it on. Mr Arthur, had been criticised by cinema-goers for not showing "blockbusters and top films" such as Kung Fu Panda 3 and Star Wars: The Force Awakens. In September 2015, Mr Arthur had reassured cinema-goers that the future of the Scala cinema was "safe" after his complex in Thurso had shut its doors. Mr Arthur had been striving to find funds to keep the Thurso business afloat. The new operators of the complex in Thurso were Merlin Cinemas, who also took over Prestatyn Scala Cinema. Merlin Cinemas streamlined the business to help make it more sustainable.
Today, the Scala continues to be cherished by visitors and residents alike, and continues to play its part in the successful regeneration of the Welsh seaside town of Prestatyn.
Building plans for Prestatyn's new look Scala Cinema and Arts Centre…
The following plans were kindly supplied to the Friends of the Scala by Anna Joynt of Burrell Foley Fischer LLP and are available in the popular Adobe PDF format. If you don't have the Adobe Reader software installed on your computer, it can be downloaded for free:
To view the plans, simply click on each thumbnail image below:
With grateful thanks to Anna Joynt of Burrell Foley Fischer LLP Architects and Urban Designers
©2003 Burrell Foley Fischer