An interactive map of Prestatyn showing the location of the Scala Cinema. Use the on-screen controls or your mouse to 'grab and drag' the map, your mouse wheel can be used to zoom in and out.
To find locations and get directions, simply enter your search keywords, eg. an address or place name.
Planning a trip to Prestatyn to visit the Scala? Check out the latest weather...
Prestatyn's new Scala Cinema and Arts Centre
Presented below are the plans for the new Scala Cinema and Arts Centre, which began construction during February 2007 and which was handed over to Denbighshire County Council on Monday the 22nd of September 2008. Following time for additional technical installations and staff training, Prestatyn's new Scala Cinema and Arts Centre opened to the public on Friday 13th of February, 2009.
The building designs were created by London-based architects and urban designers Burrell Foley Fischer LLP, commissioned by Inglis Todd Consultants, on behalf of Denbighshire County Council.
The Stage 1 Feasibility Study was completed in February 2002 and was positively received by all concerned. In September 2003 Inglis Todd Consultants and Burrell Foley Fischer LLP were appointed to progress with the Stage 2 Feasibility Study, following a competitive selection and tender process. The design of the new Scala Cinema and Arts Centre was developed in tandem with the development of the Business Plan, separately commissioned from Inglis Todd Consultants. The design brief stressed the importance of the new Scala Cinema and Arts Centre, contributing to the vitality and viability of the town centre and its regeneration.
Burrell Foley Fischer LLP are to be commended for their quality and thoughtful designs which make excellent use of space. Its is clear from browsing the plans, that Prestatyn's Scala Cinema and Arts Centre will help transform and regenerate the town.
Included are a wide range of facilities which local businesses, schools, communities and associations can use as comfortable, easily accessible and centralised meeting rooms. Two cinemas, theatre production stages, a Tourist Information Centre, a retail shop unit and a wonderful café/bar which overlooks Prestatyn's High Street are also included.
The new Scala Cinema and Arts Centre will not be directly managed by Denbighshire County Council's Tourism and Leisure department. Instead it is run on behalf of Denbighshire by a professional trust, the Prestatyn Scala Company, a corporate 'not for profit' Company Limited by Guarantee, which is similar in fashion to Prestatyn's Nova Centre and Rhyl's Pavilion Theatre. The new digital Cinema is capable of screening the latest films and cinema releases, as soon as they become available.
Building plans for Prestatyn's new look Scala Cinema and Arts Centre...
The following plans were kindly supplied to the Friends of the Scala by Anna Joynt of Burrell Foley Fischer LLP and are available in the popular Adobe PDF format. If you don't have the Adobe Reader software installed on your computer, it can be downloaded for free:

To view the plans, simply click on each thumbnail image below: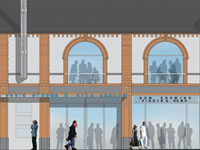 The architect's impression of the Scala Cinema and Arts Centre, with the front of the building as seen from street level. The design restores the famous large window arches.
A larger version of this artists impression is available here.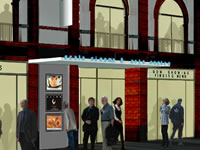 A representation of how the Scala will look during night time.
A larger version of this artists impression is available here.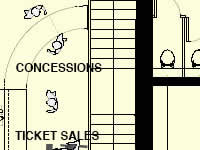 Ground floor plans include:
Retail shop unit
Tourist Information Centre
Box Office with Cash ATM's
Dressing Rooms
Green Room
Meeting/Community Room
Studio Theatre
Storage areas
Sheltered goods-in delivery area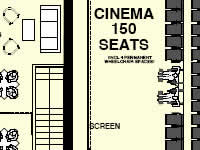 First floor plans include:
Café/Bar with adjacent meeting room
150 seat Cinema
151 seat dual-purpose Cinema/Theatre
Staff Room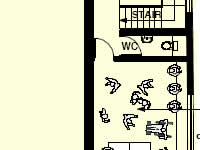 Second floor plans include:
Projection and Control Rooms
Projectionist's Rest Room
Office
2 Meeting/Community Rooms that can be used as extra dressing rooms if required.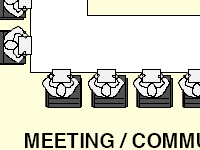 Third (top) floor plans include:
A lightly decked and railed outdoor terrace
Reception
Large Meeting/Community Room
Store room and Plant Rooms.
With grateful thanks to Anna Joynt of Burrell Foley Fischer LLP Architects and Urban Designers
©2003 Burrell Foley Fischer